New Class Schedules - For 2012 - 2013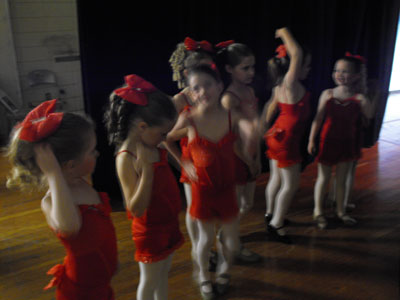 Tuition & Payments Listed Below

We have begun to take registration for the 2012 -2013 school year.
SCHEDULE 2012 - 2013 - Subject to Change based on class size and will be posted soon. Fall classes begin Monday September 10.
Class Descriptions
Pre-School classes (3 1/2 - 5 years)
Pre-ballet, simple acrobatics, songs, creative movement, and tap for coordination and rhythm. Beginners basic classes - tap and ballet.
Ballet classes - Beginner, Intermediate and Advanced professional.
Jazz - Beginner, Intermediate and Advanced.
Tap - Beginner, Intermediate and Advanced.
Regulation dancewear may be purchased at the studio and must be worn to all classes. Leotard color is determined by class level. Ballet Pink tights, pink ballet slippers, tan tap and jazz shoes. Student's name should be on all dancewear. Only dance shoes may be brought into the dance studios. Please secure hair away from the face so the teacher may see proper alignment for correct posture and placement.

Tuition and Payments (Subject to change - below rates are for the 2011/2012 season):
Tuition is managed in two ways. You may either pay in full at the beginning of the season or pay in two installments. The first half, registration and costumes deposits (for each class ) are due at the beginning of the season in August. The remaining tuition and costume balance is due the 1st week in December. A 5% discount is only given when the payment is made in full at the beginning of the season. A fee of $10.00 is added for each month a payment is late.
A registration fee is due when registering for classes and a costume deposit is required :
New Students- $10.00
Returning Students- $5.00
Costume Deposit- $45.00 for each class
Six or fewer students in a class is considered semi-private lesson. The rate is determined accordingly.
Please make all Checks payable to Georgia Deane. No other name will be accepted.
Tuition and Payment Schedule
Class Season half Season 5% disc.
1 $300 $150 $285
2 $400 $200 $380
3 $500 $250 $475
4 $600 $300 $570
5 $700 $350 $665
Season Rate for all Seniors is $750.00, if paid in full $712.50 with 5% discount.