Faculty
Select from the names below to read their biographies: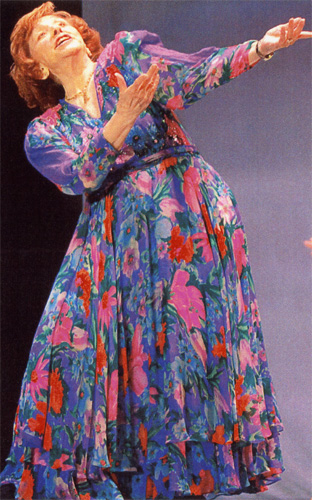 Georgia Deane
Cynthia Marnik
Laura Young
Donna DeSantis
Ann-Marie Carlomagno
Alison Dulak
Jennifer Nealson

Georgia Deane: Artistic Director & Founder
Georgia Deane is the artistic director and founder of the Deane School of Dance and the Greater Milford Ballet Company in Mendon,MA. She has been a dance teacher for 50 years, a professional performer of voice and dance, a musician, chairman of the Salem Cultural Arts Commission, Chairman of the Milford Arts Council, President of the Dance Masters of America and Dance Teachers Club of Boston, and a teacher's teacher for dozens of dance teachers worldwide. She has taught for dance seminars and teacher conventions of leading dance organizations in the United States and abroad. She is also a competition judge for the National Dance Council of America.
During Georgia's early years, she studied dance, voice, violin, piano, and guitar. As an aspiring actress, she attended EmersonCollege and graduated from CurryCollege, majoring in theater arts and dance. After college, Georgia and her two sisters, Helen and Maryann Deane, toured on the RKO circuit performing trio harmony and dance with stars such as, Frankie Fontaine and Red Buttons. The sisters also performed in the New England area at nightclubs and did numerous commercials on radio. From that time to the present, Georgia Deane has studied regularly in New York and New England with master dance teachers such as, Luigi, June Taylor, Paul Hakon, Paul Draper, Peter Gennaro, Harriet Hoctor, Gus Giordano, Marina Svetlova, E. Virginia Williams, to name a few.
Georgia has two children, Cynthia Marnik and Dean Avellis, who are also performers and teachers. Miss Georgia also has 8 step-children, 3 grandchildren, and 5 great-grandchildren.



Cynthia Marnik: Cynthia Marnik has taught dance since the 1970's. Although she is affiliated with the Deane School of Dance in Mendon and Salem, MA, she also teaches master classes for other dance studios and has been on the faculty of Dance Masters of America and Dance Teacher's Club of Boston.
A member of the Deane Family, she has experience as a professional dancer, singer, and actress. In addition to her study of dance with her mother and aunt, Georgia Deane and Helen Deane, she has studied with E. Virginia Williams, Sydney Leonard, Luigi, June Taylor, Madame Valentina Periaslavic, Marina Svetlova, Paul Draper, Harriet Hoctor, Paul Hakon, Gus Giordano, David Howard, and Joe Pugliese, to name a few.
Cynthia is also the director of the Salem Children's Theater, former director of the Mendon Children's Theater, former member of Boston Ballet, choreographer of more than 50 musical theater productions, former chairman of the Salem Arts Council, a school teacher, Director of a Miss America Preliminary Pageant, and an event planner.
Her dance choreography at the Deane School always adds a theatrical flair to their productions. This fall, she will start a new theater program at the studio, with workshops and a full stage production in March.
Laura Young: Principal of Boston Ballet School, Metro West Studio, Principal of Dancelab - Choreographer for Greater Milford Ballet Company's "The Nutcracker"

Young was appointed principal of Boston Ballet School's Boston Studio in 1994. From 1986 until 1994, she was director of Boston Ballet's International Summer Dance Program. From 1986 to 1996, she directed Boston Ballet II, a group of young professional dancers that performed with Boston Ballet and presented lecture demonstrations throughout the Northeast. As director of BBI, Ms. Young choreographed five works for the group, Albinoni Suite, Champ Dances, Deadlock, A Place of Sound and Mind, and the two-act story ballet Rumpelstiltskin. Currently Ms. Young is a faculty member and Principal of Boston Ballet's Metro West Studio and Principal of DanceLab, a summer intensive for young ladies aged 12-16.
Ms. Young has given guest master classes at the Boston Conservatory where she has also staged Napoli and Pas de Quatre, Walnut Hill School, Harvard Dance Program, Alwin School of Dance in Albuquerque, New Mexico, Oklahoma Summer Arts Institute, Festival Ballet Providence, Worcester Performing Arts School, Dance Place of Newburyport, Academy of Ballet Arts in Chelmsford, Ashland (KY)Youth Ballet, Cape Cod Conservatory, Mid-Cape Ballet Academy, National Dance Theatre of Bermuda, Granite State Ballet, Lexington (MA Ballet, Florida Ballet Arts School in Sarasota, Northeast Regional Ballet Festival, Dance Masters of New England, who made her the first Honorary Member of Dance Masters of America Chapter 5, and Greater Milford Ballet, where she has staged a production of Nutcracker for the past eighteen years. She was named a "Grand Bostonian" for the city's 350th gala celebration, and received a "Citation for Special Achievement" at the Eighth Annual Elliot Norton Awards.
Born in Boston, Ms. Young was one of the most celebrated American dancers during her performance career. With a repertoire of more than 65 leading roles in classic, modern, and contemporary ballets, her performances were noted for superior technical skill and dramatic energy by critics around the world. Ms. Young was best known for her interpretations of the title roles in Giselle, Romeo and Juliet, Odette/Odile in Swan Lake, the Sugar Plum Fairy and Snow Queen in The Nutcracker, Swanhilda in Coppelia, Tarantella Pas de Deux, Rodeo, The Four Temperaments, Allegro Brillante, and Kitri/Dulcinea in Don Quixote opposite Rudolf Nureyev. She performed with Fernando Bujones in La Sylphide, and in his stagings of Esmeralda Pas de Deux and Raymonda Act III; with Edward Villella in Apollo and Stars and Stripes; opposite John Meehan and Mr. Bujones in Giselle; with Alexander Kolpin in Napoli, and with Frank Augustyn in Tchaikovsky Pas de Deux. A highlight in her career was the opportunity to dance with Margot Fonteyn in Les Sylphides in the Nocturne. "It was a most inspiring and illuminating experience."
Ms. Young performed extensively abroad as part of the first American balletic tour of China by Boston Ballet in 1980, in two tours of the United States and Europe with Rudolf Nureyev in Don Quixote, and in triumphant performances of Swan Lake as Odette/Odile with Mr. Nureyev in Boston Ballet's London debut in July 1981. Young gave her final performance with Boston Ballet in her signature role as Kitri-Dulcinea in Don Quixote on May 21, 1989.
Donna DeSantis M.Ed: Donna began dancing at the age of four and has been dancing ever since! In 1982 she began her teaching career and is certified by test to teach by Dance Masters of America (DMA) N.E. Chapter #5. She is also served on the DMA Board from 2004-2009, three years of which she was the chapter secretary. She is a graduate of the Dance Teacher's Club of Boston Dance Teacher Training Course, and has a Bachelor of Science degree in Business Administration from Worcester State University, and a Masters in Education from American International College. Donna has performed in numerous recitals/muscials, owned her own dance studio, and performed in Coppelia with the Boston Ballet. She has judged local dance and skating competitions. Donna continues her dance training by attending teacher workshops, conferences and master classes given by dance professionals from around the country.
Ann-Marie Carlomagno: Ann-Marie Carlomagno will be teaching jazz classes for the Junior and Senior groups. She is the Associate Artistic Director and choreographer of the Dance Company at the Charlotte Klein Dance Center in Worcester, MA. A former student of Charlotte Klein, she has also studied at the Gus Giordano Dance Center and at the 1990 Jazz Dance World Congress in Evanston, Illinois. With about 20 years of teaching experience, she is a member of the board of directors of the New England Chapter of Dance Masters of America and has been a guest teacher at DMA New England Chapter #5 and at many other dance studios in New England. She has directed the Teen Miss Dance of New England Competition for over 10 years and has judged for the DMA Petite and Miss Dance of New York Scholarship Pageants and the Connecticut Invitational Scholarship Competition. Her impressive, prize-winning choreography has won top awards in local and national competitions for many years.
Alison Dulak: Alison Dulak began her career in dance as a student and then as a teacher at the Deane School of Dance under the direction of Georgia Deane, Cynthia Marnik and Laura Young. She attended numerous summer intensives at Boston Ballet where she studied under Bruce Marks and Christine Busch. Alison was a student and counselor at the Svetlova Dance Center in Dorset, Vermont where she studied under Marina Svetlova, Maria Youskevitch, the daughter of legendary ballet star Igor Youskevitch, and Myles Marsden, Premier Danseur of the Yugoslav National Ballet and then founder of the State Ballet of Rhode Island. She attended college at The Boston Conservatory and taught ballet for Cynthia Marnik at Studio One in Salem, MA in the early 1990's. Alison apprenticed and then became a company member of the Granite State Ballet where she was titled Soloist and became a teacher for the company's professional school. After taking a hiatus from dance to raise a family, Alison is very excited to return home to teach at the Deane School of Dance.


Jennifer Nealson: Jennifer is an Irish Step instructor who also teaches with McInerny School of Irish step. She has competed in Worlds twice and several national competitions.